Overview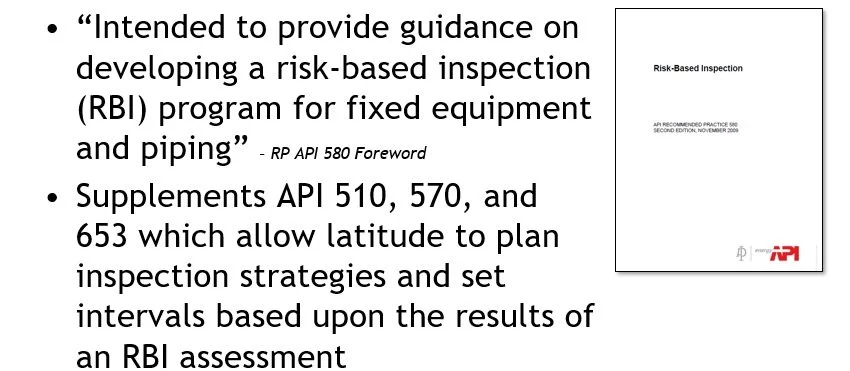 This 2-day training provides participants with a clear and thorough understanding of the basic elements for developing, implementing and sustaining an effective Risk Based Inspection (RBI) program as defined in API RP 580. This RBI training covers the following:
Definition of RBI
Key elements of RBI
How to implement an RBI program
How to sustain an RBI program
The objective of this course is to provide individuals with advanced knowledge and skills in RBI based on the information contained in API RP 580. In addition to the classroom instruction, this course includes individual and group exercises designed to help you understand the essential elements of an RBI program.
Curriculum
This course walks participants through the published API Recommended Practice 580 Risk-Based Inspection (3rd Edition) with in-depth discussion and exercises designed to provide students with an understanding of each element of the methodology.
Day 1
Introduction to API 580 (API RP 580 Sections 1-5)
The RBI Team and Planning the RBI Assessment (Sections 6 & 15)
Collect RBI Data (Section 7)
Identify Damage Mechanisms (Section 8)
Day 2
Determine Probability of Failure (Section 9)
Determine Consequence of Failure (Section 10)
Determine Risk and Communicate Risk Results (Section 11)
Plan Mitigation Activates (Sections 12 & 13)
Update the RBI Assessment (Section 14)
Document the RBI Assessment (Section 16)
Review API 580 Assessment Process
API 580 Certification / API 580 Exam Preparation
Who should attend
This training is intended for engineers, inspection, and maintenance personnel involved with corrosion, process safety, mechanical integrity, and RBI in onshore and offshore process industries such as oil and gas, refining, petrochemical, chemical, and power.
This training will be valuable for inspectors who currently possess certifications such as the API 510, 570, or 653 inspection certification and work for organizations which have RBI programs.
Individuals who are interested in obtaining API 580 certification can utilize this course to supplement their exam preparation efforts.
Objectives
Upon completion of this course, participants should be able to:
Understand the essential elements/tasks for an RBI assessment/program as defined in API 580
Understand how to implement and sustain an RBI program
Identify significant changes in the 3rd edition of API 580, including the required elements
Be prepared for the API 580 certification exam
Included API 580 Course Materials
Comprehensive note set / API 580 study guide
Terminology flashcards
Daily self-assessments / simulated exams
Access to our online test bank which contains over 400 practice API 580 exam questions. The testing environment is made available to participants for 30 days from the first day of class.
Continuing instructor support to answer API 580 and other RBI-related questions after course completion.
Attendee Requirements
Attendees are responsible for their own method of transportation, lodging, and meals. AOC does provide lunch for each day of the course. AOC is not responsible for registering attendees for the API exams or the fees associated with them. All attendees are responsible to provide their own copies of the API RP 580 (3rd Edition) documentation.
How much does it cost?
Our standard 2-day API 580 Training costs $575 / per participant for our in-house offering at our Houston, Texas Headquarters.
When is this course offered?
Our courses are scheduled to coincide with the API 580 exam. This course is offered Spring, Fall, and Winter just prior to each exam window so that participants can benefit from concentrated practice and support in preparation for the exam.
Where is this course offered?
This course is available in-house (at AOC) or on-site (at your location) and can be customized to meet the specific needs of your organization. While we offer this course three times a year to the public in our in-house training facility in Houston, Texas, we also provide this course (or variations of this course) in-house or on-site to many other companies around the world.
Facilitators
Leon Johnson, Vice President - Performance and Learning
Leon has over 18 years of experience providing RBI program implementation, management, and training in the refining, gas processing, petrochemical, and chemical industries. Leon has a B.S. in Engineering Technology from the University of Houston and an M.S. in Industrial Engineering from Texas A&M University, Kingsville. In addition to API 580 certification, he is a Certified Professional in Learning and Performance (CPLP) and a Member of the Association for Talent Development (ATD).
Mike Hurley, Vice President - Technology
Mike has over 20 years of experience providing Inspection, RBI, PSM program implementation, management, and training in the refining, gas processing, petrochemical, and chemical industries, with half or more working directly for major chemical companies. Mike has a B.S. in Mechanical Engineering from the University of Kansas. In addition, he is also certified to API 580.
Paul Raithby - Senior Consultant
Paul has over 20 years Maintenance, Reliability and Mechanical Integrity experience in the Oil, Gas and Chemicals sector as a Chartered Mechanical Engineer and a leader in Inspection Management in this highly regulated environment. Paul currently works as a Senior Consultant helping our clients to implement Mechanical Integrity programs using Risk Based Inspection methodologies world wide. In addition, he is also certified to API 580.
Cancellations
AOC's policies with respect to cancellation either by the participant or by AOC are as follows:
Course Cancelation: Should this course be cancelled due to insufficient attendance, all registration fees shall be refunded. AOC will contact participants 30 days prior to the start of the course to confirm attendance and provide further details. AOC are not responsible for losses in travel/accommodation expenses, therefore it is advised that participants refrain from booking travel/accommodation until they confirm the course with AOC.
Participant Cancellation: Any participant that decides not to attend is entitled to transfer their registration to a substitute participant or may attend a later course. No refunds will be given.
Exam Registration
Registration and/or completion of this course does not register you for the exam. You can learn more about application for certification and exam registration at the API website.
Guarantee Policy
API's 580 certification exam can be quite challenging. Completion of this training does not ensure a passing score on the exam.
Register Now!
Why Choose AOC
We have been providing Risk Based Inspection training since our inception. Here are a few reasons why you should consider using AOC as your RBI training provider:
AOC's consultants have remained at the forefront of RBI and were involved in RBI before API 580/581 even existed.
AOC consultants continue to be actively involved in the development of the API 580 Recommended Practice.
Our courseware is professionally developed and takes into account current instructional best-practices.
AOC trainers are API 580 certified.
Our trainers have been facilitating RBI training courses for over 20 years
Our trainers are not merely teachers - Between them they have over 60 years practical experience with hundreds of RBI implementations in many diverse plants, operational environments, and regulatory environments around the world.
While certification is certainly a goal, our courses are not designed merely to pass the exam. Our courses give RBI personnel the real-world knowledge they need to be effective in implementing and sustaining RBI programs.
Register Now!
About API 580
American Petroleum Institute (API)
The American Petroleum Institute (API) is a national trade association that represents all facets of the oil and natural gas industry. Although it's focus is primarily in the US, API is recognized around the world for a broad range of programs. For more than 90 years, API had been at the forefront of the development of petroleum, natural gas, and petrochemical equipment and operating standards and now has an extensive catalog of codes which standardize industry practices.
API offers an Individual Certification Program designed to recognize working professionals who are knowledgeable of industry inspection codes and standards and who are performing their jobs in accordance with such codes and standards. Adherence to API standards and practices is a legal requirement in many US states and has become widely recognized and adopted in many other countries.
Risk Based Inspection (RBI)
Risk Based Inspection (RBI) is a methodology used to schedule inspections of equipment in industrial plants. Equipment usually consists of piping or fixed equipment such as pressure vessels, heat exchangers, and storage tanks.
Throughout the refining and petrochemical industry, RBI is becoming an accepted and dominant methodology to schedule pressure equipment inspections. Effective RBI has been proven to improve reliability and safety of such equipment. These benefits have been achieved by mitigating risks (primarily through inspection) associated with loss of containment events caused by damage mechanisms.
RBI is, essentially, a method of optimizing inspection plans so that risk is minimized and return on investment is maximized.
When done correctly, RBI can reduce the frequency of inspections while ensuring the risk does not increase. Conversely, it can shorten inspection frequencies should the risk necessitate it.
This complex nature of RBI has necessitated a need for a formal definition of the methodology.
API Recommended Practice 580
In 2002, API published it's first edition of their Recommended Practice 580 which formally outlines and explains the basic elements for developing, implementing, and maintaining a credible RBI program.
API 580 Risk Based Inspection has since become something of an industry standard. It is now referenced in API's inspection codes (510, 570, & 653) as an acceptable means of setting inspection intervals. In some locales, it is mandated that facilities making use of RBI methodologies must adhere to the practice defined in API 580.
In 2016, API published its third edition of API RP 580. The 3rd Edition has significant changes including:
The addition of Required elements for conducting an RBI analysis
Definitions that have been added, modified, or removed
Other significant changes including clarifications and explanations
Those involved with RBI should possess some form of training and certification to prove their competency in RBI.
Register Now!
API 580 Certification
What is API 580 Certification?
The American Petroleum Institute certifies individuals in a number of their standards and practices. The API 580 RBI certification demonstrates and individual's understanding of RBI methodology, practices and implementation.
Why should I pursue an American Petroleum Institute Certification?
Obtaining the API 580 certification can add significant value to your professional credentials and demonstrates to employers, owner/operators, and clients that you have a high level of proficiency and deep understanding of RBI.
Who should get certified?
You should consider API 580 certification if you are:
An inspector working for a user/owner who has a RBI program or you work for a contractor implementing RBI programs
A stakeholder in the RBI process for your organization (engineers, managers, etc.)
Providing RBI consulting services to implement, manage, and/or sustain RBI programs
Qualifications
Current API 510, API 570, or API 653 certification holders are automatically qualified to take the exam.
If you do not hold an API 510, 570 or 653 certification, qualification is based on a combination of level of education and experience acquired within the last 10 years as follows:
| Education | Years | Experience Required |
| --- | --- | --- |
| BS or higher | 1 year | Any experience in petrochemical industry |
| 2-year degree or certification in engineering or technology | 2 years | Any experience in petrochemical industry |
| High school diploma or equivalent | 3 years | Any experience in petrochemical industry |
| No formal education | 5 or more years | Any experience in petrochemical industry |
API 580 Exam Information
In addition to the above education and experiential requirements, candidates are required to pass an exam that covers the content of API RP 580.
The exam tests the candidate's knowledge and expertise in the field of RBI.
Candidates have up to 3.25 hours to complete the exam.
The exam consists of 90 questions, of which 80 are scored. The questions are multiple choice. The exam is closed book. Paper and reference materials are not allowed.
Candidates must have a passing score of 70% to be eligible for certification.
Questions for the exam are based on API Recommended Practice 580 Risk-Based Inspection, 3rd Edition, 2016.
You will need to apply to take the exam with API. As part of the application process you will be required to submit proof of your education and experience qualifications. Education can be documented via the submission of a copy of your diploma or certificate. Experience is verified by a check of references which are submitted as part of the application process.
There is an application fee of $315 for API members and $365 for non-members.
The API 580 Certification exam is offered three times per year: Spring, Fall, and Winter.
The API 580 certification exam is an online exam hosted by Prometric. Contact Prometric to find a testing center near you.
The upcomming exam schedule announced by API is as follows:
| Exam Window | Application Deadline |
| --- | --- |
| April 7-28, 2023 | February 3, 2023 |
| August 11 - September 1, 2023 | June 9, 2023 |
| December 1-22, 2023 | September 29, 2023 |
Recertification
As the Recommended Practice changes over time, 580 certification is valid for a three-year term and must be applied for within 90 days of expiration of your current certification. Employment verification is not required to recertify.
Register Now!