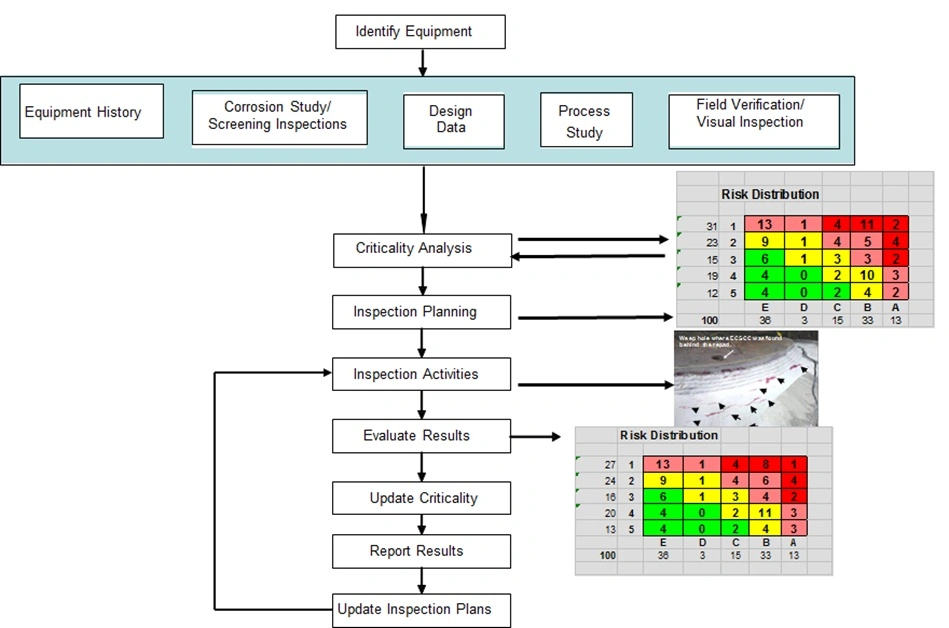 RMC-12-46 - An update on Risk Based Inspection: Bringing focus on external corrosion under insulation, stress corrosion cracking and other damage mechanisms AFPM Reliability and Maintenance Conference 2012
Abstract
In 1998 we presented a paper entitled "Using risk based inspection to focus on corrosion under insulation". We stated:
Risk Based Inspection (RBI) was a relatively new technology being applied in the chemical process industry.
RBI provided a systematic process for factoring risk into decisions concerning how, where and when to inspect a process plant.
RBI focuses inspection resources on critical equipment in ways which will prevent failures, particularly catastrophic ones.
RBI has the potential to make chemical plants safer in a cost effective way.
RBI can provide a dynamic (time dependent) means of determining when and where to expect in-service deterioration.
RBI effectively predicts Corrosion Under Insulation (CUI) damage.
RBI effectively predicts chloride stress corrosion cracking and other damage mechanisms.
When damage is confirmed a Fitness for Service (FFS) evaluation can be used to decide on an appropriate maintenance strategy
In the 14 years since we presented that paper at the PetroSafe conference in Houston, we have rolled out hundreds of RBI projects, collecting data and findings that have contributed significantly to improving the reliability of the refining, petrochemical and chemicals industries and specifically across the Huntsman Chemical plant in Port Neches Texas. This paper revisits the models and asset strategies developed to prioritize inspections for CUI as well as other damage mechanisms such as stress corrosion cracking and examine a representative sample of findings that resulted in significant lost production avoidance.
Table of Contents
Introduction - Risk Based Inspection (RBI)
The corrosion study - Identifying damage mechanisms
Chloride stress corrosion cracking, CUI and other damage mechanisms
The CUI model in RBMI
The RBMI project at Port Neches
KPIs and measureable metrics
Significant findings
Conclusions
Path forward - The RBMI scorecard
Appendix I - Marsh Risk Consulting
Conclusions
When good data leads to informed decisions you can prioritize those inspections aligning them with those damage mechanisms driving the asset's risk.
The Port Neches facility has achieved significant improvements in reliability leading to a 96.7 percent asset mechanical reliability.
The significant findings in CUI and Chloride Stress Corrosion Cracking as a result of the RBI study, allowed us to effect the appropriate repairs and replacements delivering significant value to the Port Neches facility in lost production avoidance.
Presented at AFPM - Reliability and Maintenance Conference May 22-25, 2012 Henry B. Gonzales Convention Center San Antonio, TX