A strong ROI is the first step in building a case to introduce a new program into a facility. This client recognized the need to convert their existing conventional API program into a manageable Risk Based Inspection (RBI) program for all their fixed equipment, piping and pressure relief devices. This project included a review of all piping circuits, collecting all vessel, piping and PSV data and review inspection histories. This data was evaluated during the corrosion study and used to perform a risk assessment and 15 year inspection plans for these assets. By implementing an RBI program using a software program for management, this chemical plant will save approximately $15,000,000 over ten years. The cost benefit is realized by reducing the amount of fixed equipment inspections, relief device maintenance being performed each year, and reducing the risk associated with these assets. Through the implementation of a program based on anticipated damage mechanisms, the facility was also able to extend turnaround intervals and realize a 35% reduction in fixed equipment that required internal inspections.
The value proposition below is based on a 10-year plan with the anticipated cumulative risk reduction per asset count: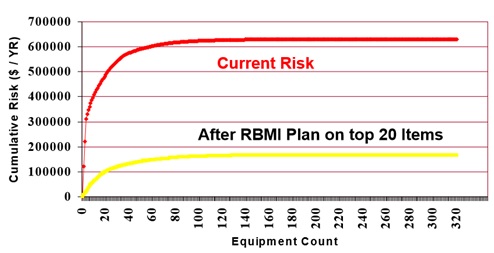 The RBI implementation has enabled this chemical plant to improve the reliability, safety and integrity of its process equipment while saving the company millions of dollars.