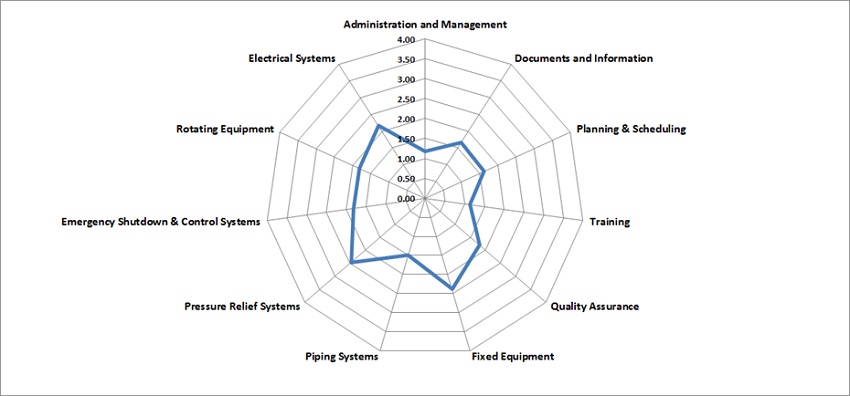 A global leader in nitrogen fertilizer manufacturing and distribution, that owns and operates world-scale nitrogen complexes, wanted to improve the reliability and effectiveness of its mechanical integrity program. They wanted a systematic and carefully aligned performance improvement program that would ensure that these improvements would not only be achievable but sustainable. Therefore they wanted the plan to consider:
All aspects of their personnel capabilities and capacities for change,
Modifications to existing work processes and
New technology to facilitate their ability to manage and measure the performance of the new program
The MI Assessment: With the end in mind, AOC consultants performed an MI Assessment to:
Familiarize AOC with the current work processes, front line staff and day to day activities
Understand the current level of personnel qualification and responsibilities and technologies used to track and report on the current work processes
Develop a rapport with the staff to help focus on the issues and concerns of the work force and management surrounding any resulting improvements
Key stakeholder Interviews helped us determine the current level of experience with respect to attitudes, understanding and potential for managing the new/revised processes, as well as prepare the plant personnel for the roles and responsibilities required to effect and measure the performance improvement of the new program. They would also reveal potential areas of difficulty and the nature of any barriers to effective transformation.
Following the MI assessment we were able to:
Build team based changes to the owners MI manual
Improve communication among plant wide disciplines including inspections, engineering, maintenance, operations and management
Align damage mechanisms with newly developed asset strategies
Deliver requisite data into an ISO 14224 database for migration to the plant-selected asset integrity management technology, to wit GE's APM (Meridium), as it became available in early 2015
In conclusion, compliance was of course an outcome, but the process allowed the team to deliver the improvements systematically with sustainability of the new best practice MI program including RBI, as the end goal.