Is there any difference between Safe Operating Limits (SOL) and Integrity Operating Windows (IOW)?
Short answer is NO.
But let me tell you how all this started.
I was recently in a meeting where 2 engineers were talking about this topic. One of them was a process engineer, the other one was reliability engineer.
The process engineer was talking about the importance of defining a Technical Operating Envelope in their facility where they can easily identify the Safe Operating Limits (SOL) and standard limits. He indicated that the Technical Operating Envelope consists of the operating limits of a unit that specifies safe mechanical and process performance limits between minimum and maximum operating parameters.
He continued speaking and stated that a SOL is operating parameter, such as pressure, temperature or flow, that defines the limit to which equipment within the plant process can be safely operated. Deviating from the safe operating limit can result in immediate and severe consequences to health, safety and the environment.
On the other side of the table, the reliability engineer stated that from his point of view the most important items to be defined were the Integrity Operating Windows, both critical and standard. He clearly said that IOWs are derived from performing a corrosion hazard analysis. He also mentioned that IOWs are defined values for process variables that can affect the mechanical integrity of an asset if the operation deviates from the established limits for a predetermined length of time.
Both went back and forth on the validity and importance of the SOL and IOW critical. They both agreed on one fundamental topic: Process Engineering and Reliability Engineering personnel must report, investigate and take action on any SOL and IOW critical excursions.
At some point in the conversation, both looked at me and asked "What is your opinion on this matter?"
I said, "You both are correct on your statements."
They thought I was just joking and asked, "What do you mean?"
I replied that SOL and IOW critical are basically the same thing.
If you put an SOL chart and IOW critical chart together, they will look like this: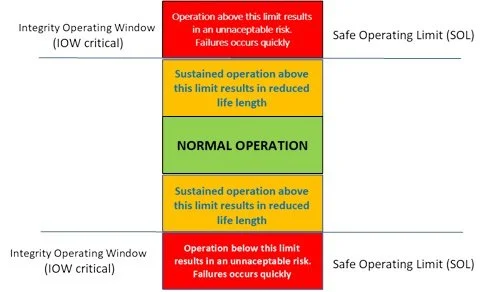 What most people consider "differences" between SOL and IOW critical is just the approach either Operations / Process Engineering / Reliability Engineering or Maintenance groups within an organization decide to manage.
In general, for Operations and Process Engineering, Safe Operating Limits (SOL) related to safety and asset performance. For Reliability Engineering and Maintenance, Integrity Operating Windows (IOW critical) are related to safety and asset life reduction.
Both looked at me and said, this is an Ah-Ha moment... They agreed that SOL and IOW critical are equivalents; what they initially viewed as differences were just a result of their different perspectives. The process engineer was looking at the overall function of the plant or unit and the reliability engineer was focused on the mechanical integrity of the asset or equipment. Same thing, just different perspectives!!